I read 71 books in 2020, the most of any year. Some were audiobooks, some I downloaded on my Kindle device, and some were re-reads for the second or third time around. This year's quarantine gave me more time for long walks to listen to interesting audiobooks, or wake up early to read a few chapters before the workday. I cherish my reading time and encourage everyone to soak up the knowledge of greats through the written word.
Through my reading habit I have amassed more knowledge than any formal education could have. I can pick up a book on any subject and decide if it's something I'm interested in. This year alone I read books on philosophy, investing, jewelry, baseball, death, Native Americans, animal extinction, sleep, and artificial intelligence. I don't consider myself a 'reviewer of books' — a person who surveys the landscape of literature with the goal of evaluating its features. I'm merely a solitary sojourner guided by a subjective inner compass, wandering the wilderness of words and encourgaging others to do the same. I love being curious, and reading allows me the opportunity to have my mind changed. I purposely say that passively. I don't change my mind, rather, I enjoy having my mind changed through experience and exposure to new ideas.
If I read George W. Bush's presidential memoir, I'm also going to read the musings of Barack Obama. If I scan the essays of Thomas Friedman, I'm going to puruse the thoughts of Charles Krauthammer in kind. Reading affords me the opportunity to understand different viewpoints, and writing helps me to clarify how I interpret those concepts in depth.
I want to explore the greats on the main pathway – Tolstoy, Dickens, Hemingway and Twain – but also to veer through the wilderness to explore unexplored territories and ideas.
These are the best books I read in 2020.
Why We Sleep: Unlocking the Power of Sleep and Dreams – Dr. Matthew Walker
Speaking of sleep, holy shit is it important. If don't have 13 hours to kill listening to this audiobook, check out Dr. Matthew Walker's appearance on The Joe Rogan Experience #1109. It's mind blowing just how much sleep affects our overall mood, fitness level, memory, attitude, brain function, body weight, and basically every other function. Every chapter is choc-ful of "Holy shit" facts that make you want to go take a nap immediately. As I've gotten older, engaged, and less fun, I've become more strict about my bed time, but still insist on staying up later on the weekends. But after listening to this, I realize just how much those 2am nights are curtailing my life.
If that doesn't convince you, then check out Lebron James' approach to sleep and why he credits sleep for his longevity.
Man's Search for Meaning – Viktor Frankl
This book tells the remarkable story of Viktor Frankl, a man who was captured and enslaved in the Auschwitz concentration camp for 6 years and lived to tell the story. His anecdotes and wisdom on the power of your attitude are life lessons that can be applied anywhere and everywhere. I read this back in high school because it is required reading, but I have since read it three or four more times because it is that good.
"Everything can be taken from a man but one thing: the last of human freedoms – to choose one's attitude in any given set of circumstances."
Sum: Forty Tales from the Afterlives – David Eagleman
This book is wild. It's a quick read but it goes through 40 different scenarios for what might happen when you die. It's trippy, witty, and extremely well-written by Stanford neuroscientist David Eagleman but really unique in it's ways of teaching you not to take life for granted.
We Learn Nothing: Essays – Tim Kreider
Recommended by the Tim Ferris book club, these short essays were about nothing in particular but beautifully written stories about the everyday relationships in life. I had never heard of Tim Kreider prior to reading this, but his short stores are phenomenal – in particular one about his best friend transitioning from man to woman in his late 30's and how Tim's own thoughts on that required a major overhaul.
Endurance: Shackleton's Incredible Voyage – Alfred Lansing
This is the wild true story of Earnest Shackleton's 1914 expedition and the failure of the Imperial Trans-Antarctic Expedition in its attempt to cross the Antarctic continent in 1914. The book details the almost two-year struggle of the twenty-eight member crew stuck without a ship in Antarctica with virtually no technological instruments and running out of food. All twenty-eight men survived and were rescued of Elephant Island. There's also a great documentary about it on YouTube.

One of my favorite books of the year early on in March when the pandy was just kicking off was Among the Thugs by Bill Buford, recommended by Sam Harris. In the 1980's this American journalist decided he wanted to see what the fuss was about in English football and joined the hooligans of Manchester United. His stories are crazier than you can imagine and the characters are Tiger King-level. If you liked Green Street Hooligans, this book and the stories within it are on another level.
Educated: A Memoir – Tara Westover
Wow, I think this was by far the most incredible book I read in a while. It came out in 2018 but I finally came around to reading it (I actually listened to the Audible version). It's incredible. The story is written by Tara Westover,  who grew up in the Idaho mountains to parents who didn't believe in government, public school or hospitals. Through tireless working in the fields, beatings from her siblings, and psychological harassment, she found a way to educate herself and make it to college. It's an ubelievable story of personal strife and triumph. It was on the reading lists of the Obamas, Mark Zuckerberg and Bill Gates – if you prefer your recommendations from people with some more clout… If this isn't made into a movie in the next five years I'd be very surprised. It's that good.
The 5 A.M. Club: Own Your Morning, Elevate Your Life – Robin Sharma
Robin Sharma, best known for his book The Monk Who Sold His Ferrari, just came out with a new book called The 5 A.M. Club. You can guess what the main message is.
Told through a story of three characters, Sharma explains the importance of arising at 5 A.M. every day to harness your focus and energy for not only your mind, but also your health, soul, and emotional self. I started getting up at 5am for about two months, and I got to be honest it was pretty great. Does it suck getting out of bed when it's still dark out? Hell yeah it sucks. But by 10am I've already done pretty much everything I wanted to do and my energy is high, I feel accomplished and I earned a mid-day nap should I feel the need. Man I sound like a dad…
The perfect book on writing . It felt like Stephen King was speaking directly to me. His book includes tips not only on how to write in proper form, but how to develop a practice and get started in publishing. So helpful for any aspiring writer – whether part time freelance work or a long form novel, his writing style and dedication to his craft are to be admired. Without him we wouldn't have The Shining, Shawshank Redemption, The Green Mile, It, or Stand by Me.
The Third Door: The Wild Quest to Discover How the Most Successful People Launched Their Careers – Alex Banayan

"The best cure for nervousness is immediate action."
Such a cool story by Alex Banayan of his journey from his USC dorm room, to winning The Price is Right to ultimately fund his dream of interviewing the world's most successful people like Bill Gates, Larry King, and Maya Angelou. He was an ordinary guy and just decided one day to interview the world's most successful people. He had a ton of bumps and hiccups along the way, but it was his sheer will not to take no for an answer that led him to success.
The Terminal List, True Believer, Savage Son – Jack Carr
Just finished the amazing James Reece series by Jack Carr. It's a political thriller trilogy about a former Navy SEAL avenging wrongdoings. It also got optioned for a TV series featuring Chris Pratt . I flew through all three books in a month and can't wait for more from Jack Carr
Don't Burn this Book: Thinking for Yourself in an Age of Unreason – Dave Rubin
Ok, let me get this out of the way before you do your research or attack me. Dave Rubin is a Trump guy. Go crazy, people. Rather than immediately dismissing him because he disagrees with you, hear him out – because in my opinion, he is extremely reasonable in just about every political issue. And even if you do end up disagreeing, you can still admit he makes some great points. I listened to his podcast well before he turned over his political views. I enjoy his take because he is actually a rare "free thinker" in today's hyper extremist political media world. In his first book, he describes his second coming-out (he's gay), from being a 'former lifelong lefty' he now identifies himself as a 'classic liberal'. As he grew he learned that those who profess to be tolerant and liberal have shown themselves to be intolerant of different political opinions and illiberal.
On his show The Rubin Report, he interviews a diverse set of political and other opinions, yet he is attacked and persecuted for his reasonable and considerate views and for inviting conservatives to friendly debates. His work with Jordan Peterson has also been a phenomenal inspiration to me and scores of others. His book is a fresh air of common sense and logical thinking in an increasingly chaotic and nonsensical world.
The Second Mountain: The Quest for a Moral Life – David Brooks
The Second Mountain by David Brooks explores the inevitable journey one takes after conquering all their individual goals – career success, marriage, house, children, etc. Once those have been fulfilled there is a need to conquer a 'second mountain' – a vocation or a calling bigger than yourself. This book provides stories of others who have climbed both mountains and provides a path so you can be prepared to do the same.
Shadow Divers: The True Adventure of Two Americans Who Risked Everything to Solve One of the Last Mysteries of World War II – Robert Kurson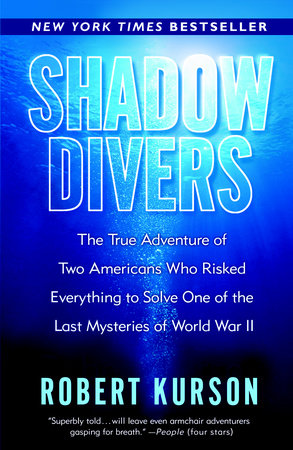 I feel like every male reaches a certain age of adulthood where they are expecting a pop quiz on World War II at any moment, so we just start devouring books and documentaries about it. This one may be candidate for one of my favorite books of the year. Shadow Divers is a crazy story about a couple of shipwreck divers from New Jersey discovering a mysterious U-boat at the bottom of the Atlantic with no record of ever being sunk, and their journey to figure out how and why it got there.
Empire of the Summer Moon – S.C. Gwynne
Man, the Comanches were some badass warriors. Considered the greatest horsemen of any era, the Comanches were lethal with a bow and arrow and are the sole reason that the Spanish stopped their colonial drive at the border of Texas and Mexico. Empire of the Summer Moon tells their story, and their battle with colonialists who came through with rifles in the mid-1800s.
I recommend it, as it definitely shifts the narrative of Native Americans having been anything other than extraordinary warriors who were snaked from their land simply due to better technology.
A Tree Grows in Brooklyn – Betty Smith
One of the best novels I've picked up in a while. I first heard of A Tree Grows in Brooklyn from Malcolm Gladwell citing it as one of his favorite books. Gladwell also put me on to the Jack Reacher series so I know to listen to his recommendations.
It's a beloved classic about a young girl coming of age at the turn of the 20th century in Brooklyn. Simply told, with a melodic prose, the narrator, Francie is a keen observer of life and its lessons.
Say Nothing: A True Story of Murder and Memory in Northern Ireland – Patrick Radden Keefe
The story of The Troubles in Northern Ireland involving the IRA is both disconcerting and fascinating. I learned so much about a period I knew nothing about (in fact my understanding of the conflict was incorrect). The writing was clear, concise and extremely easy to follow throughout the multiple story lines.
The Almanack of Naval Ravikant: A Guide to Wealth and Happiness – Eric Jorgenson
Lots to say here. If you haven't heard about Naval Ravikant, I encourage you to listen to any of the multiple podcasts he has appeared on.
I've followed Naval (@naval) on Twitter for years and the wisdom he shares on a daily basis has tremendous value for me. He understands life at such an deep level that you can't help but to wait on every word out of his mouth because he has loved it all himself.
In this book, Eric Jorgensen compiles an almanac of all of Naval's best musings expanded. I highlighted nearly the whole book but shared some gems that I just had to take screenshots of.
Red Notice: A True Story of High Finance, Murder, and One Man's Fight for Justice – Bill Browder
I gotta say this may be one of the best books I read all year. A wild true story about financial markets, Russian oligarchy, corruption, murder and human rights activism. Hats off to Bill Browder for all of his amazing work. This book is packed with emotion and shock.
The Psychology of Money: Timeless Lessons on Wealth, Greed, and Happiness – Morgan Housel
There are plenty of books on how to invest and save but very little explain why. I loved this book because Morgan Housel explains how finance has nothing to do with arithmetic or calculations, but has everything to do with psychology and patterns of human behavior. The majority of success in wealth is driven by your attitude towards fear, risk and optimism.
The Match: The Day the Game of Gold Changed Forever – Mark Frost
From the same guy who wrote The Greatest Game Ever Played, comes a story about a match that was arguably just at great.
In the 1950's two legendary pros, Ben Hogan and Byron Nelson faced off against two up-and-comer amateurs in a private match with no fans and no photo evidence. It's an epic battle of back and forth between some of the most interesting figures in golf. 
Exhalation: Stories – Ted Chiang
What a cool book. If you haven't seen the movie Arrival – first off, go see it. The movie was based off of one of Ted Chiang's short stories in his first book. I'm not really into science fiction but Chiang's short stories are so thought provoking. They're similar to Black Mirror in how they make you think about what's possible in the future through the lense of science and technology. Really cool read.
The Sentinel: A Jack Reacher Novel – Andrew Child & Lee Child
Any Jack Reacher novel will always get my nod of approval. I recommend these to everyone because the series is by far the most enjoyable I've ever read, and not a single person who has started the series has read less than five books. The character is the best – a combination of Jason Bourne, John Wick, and John McClane.
A Promised Land – Barack Obama
I haven't yet finished this 700-page monstrosity but I can already tell it's one of the best books I've read all year. I think everyone should read at least one presidential memoir to fully understand the challenges of each and every decision they make. I also suggest Decision Points by George W. Bush. Obama talks about campaigning as an anti-war president only to realize it's not that easy once you're sitting in the Oval Office presiding as the Commander-in-Chief over two wars. The level of detail and insight gives you quite an appreciation for the office, regardless of your politics.
On to next year. In 2021 I hope to delve into some of the classics of literature, philosophy and history. I haven't yet compiled my list of where I'd like to start but Christmas gifts have already got me down an exciting path of reading. I look forward to recommending more books and I hope you all can enjoy some of my favorites from this year.
Thanks for reading.
-KB